The worst results were shown by several regional administrations, the Ministry of Energy, the Ministry of Agriculture, Uzbekistan Airports and other organizations. The rating was headed by the Tax Committee and Ipoteka Bank.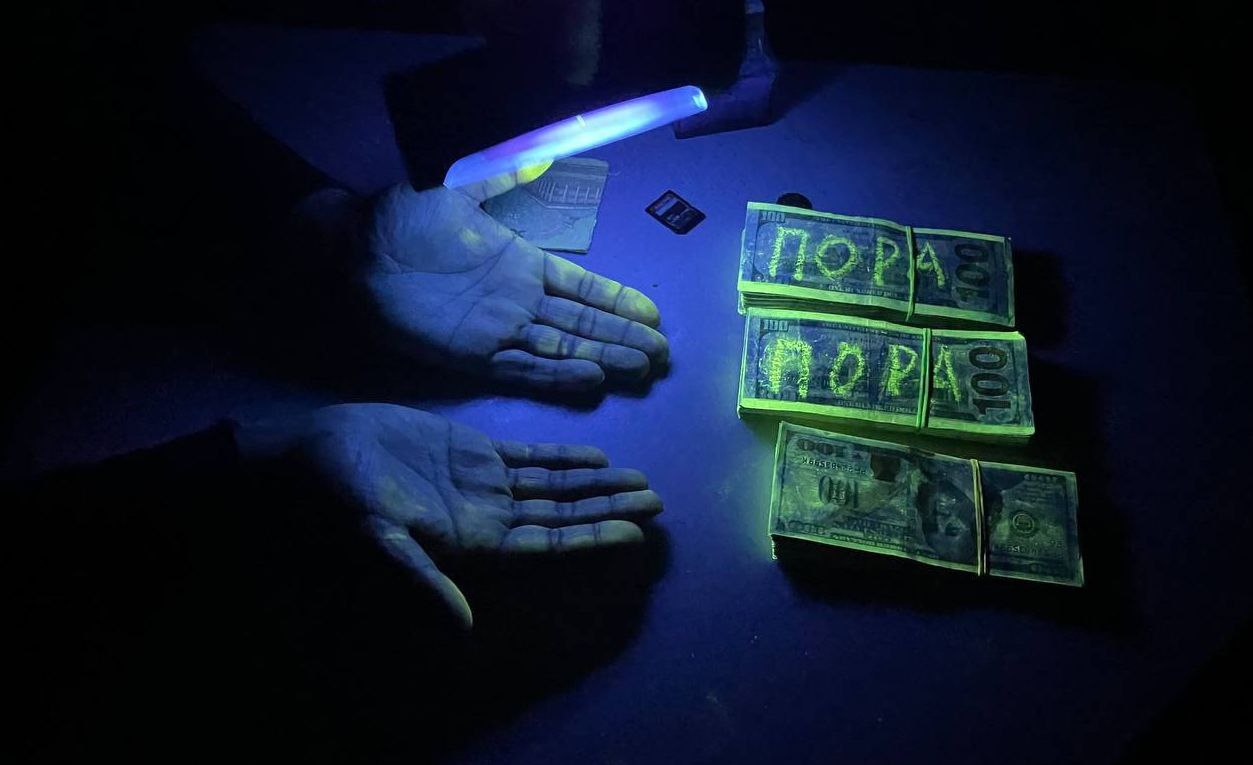 The Anti-Corruption Agency has published a rating assessing the effectiveness of anti-corruption measures in state bodies and organizations, including administrations.
A special group of experts, consisting of representatives of civil society institutions, studied 62 state organizations and evaluated their activities on a 100-point scale.
Performance is divided into categories of "good" (81-100 points), "satisfactory" (55-80 points) and "unsatisfactory" (below 55 points).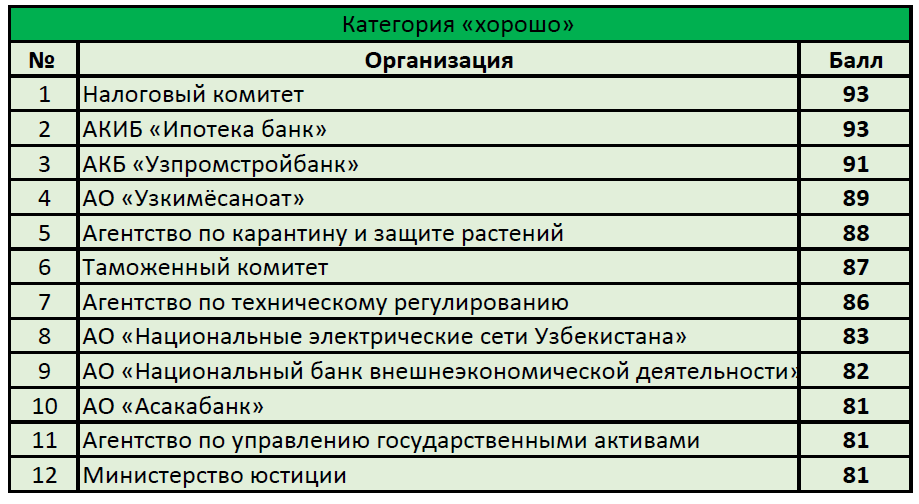 According to the results, the performance of 12 organizations belongs to the first category, 30 – to the second and 20 – to the third.
The results of the analysis showed the presence of a number of shortcomings in the direction of the fight against corruption in the activities of state organizations. In particular, the insufficient personal initiative of the head in the fight against corruption, the lack of an accountability mechanism and the lack of attention to the implementation of an effective anti-corruption system led to an unsatisfactory assessment of the activities of organizations.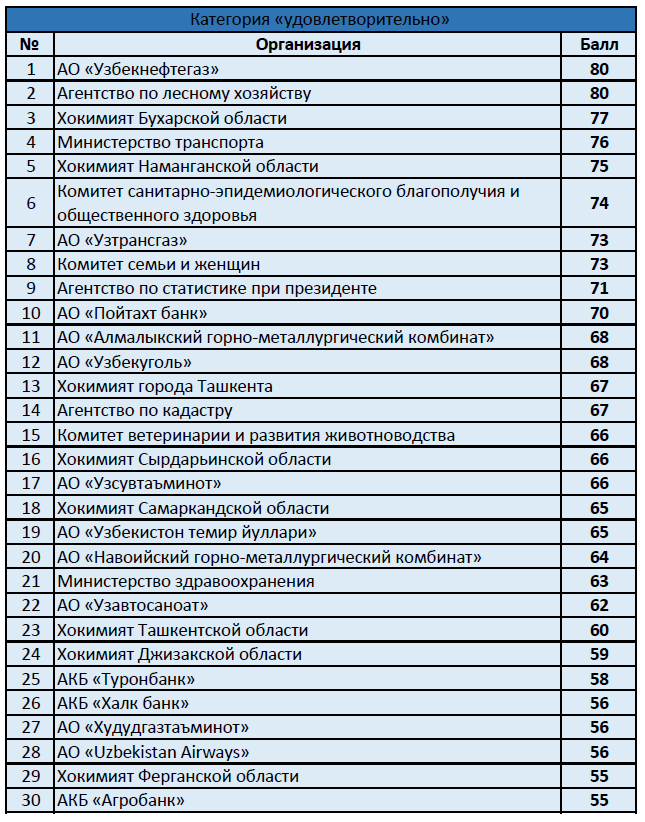 The best result was shown by the Tax Committee and Ipoteka Bank (93 points), Uzsanoatqurilishbank (91 points) and Uzkimyosanoat JSC (89 points).
The first category also includes the Ministry of Justice, the Customs Committee, Asakabank and others.
It is noted that these organizations systematically implement anti-corruption measures. In particular, specific and targeted measures were taken to assess corruption risks and minimize them, and the heads of organizations set a personal example in the fight against corruption.
Measures to combat corruption were the worst implemented in the administration of Surkhandarya region (11 points), the Ministry of Water Resources (13 points), the administration of Andijan region (18 points) and the Ministry of Energy (21 points).
The category of "unsatisfactory" also includes the following organizations: Regional Electric Networks, administrations of Khorezm, Navoi and Kashkadarya regions, Uzbekistan Airports, Microcreditbank, Toshshakhartranskhizmat and others.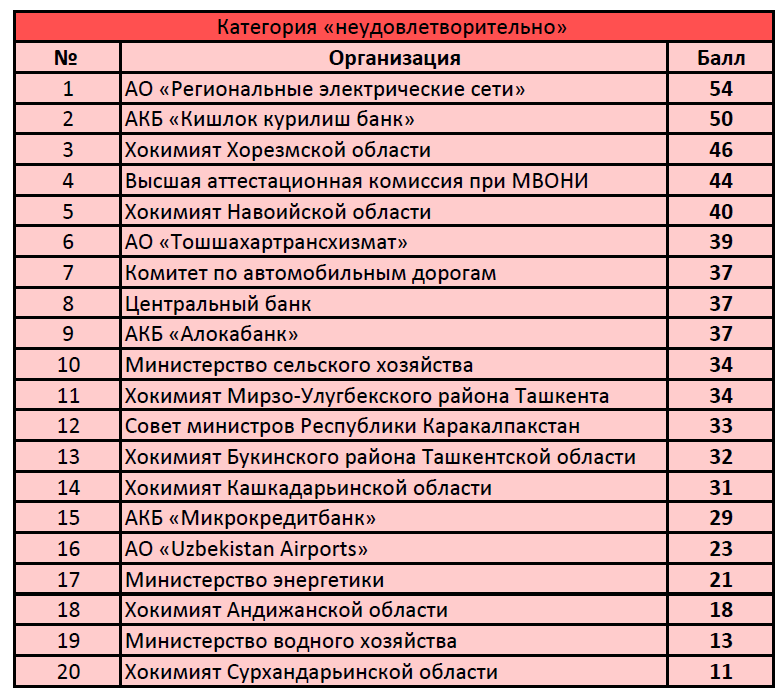 In state organizations that have received an "unsatisfactory" rating, a program of measures will be developed aimed at eliminating the identified shortcomings in the fight against corruption and improving their activities in this direction, and the reports of the relevant leaders will be heard quarterly at the meetings of the national Anti-Corruption Council.