Today, March 17, the trial of the criminal case against 39 defendants suspected of participating in the Nukus events of July 1-2, 2022 ended and the verdict was announced.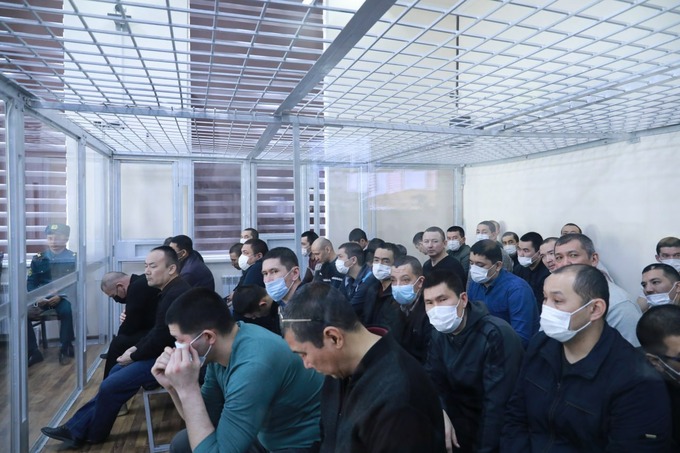 This criminal case was considered in the court of first instance under the chairmanship of Dauletbay Razov, judge of the criminal trial panel of the court of the Republic of Karakalpakstan.
Individuals who have been sentenced to imprisonment in https://sud.uz/1703-4/ with the court verdict
Islam Polatov has been sentenced to 5 years in prison;
Polat Yesengeldiyev - 6 years in prison;
Kamal Yeshjanov and Islambek Aitmuratov - 6 years in prison;
Nursultan Baylepesov and Alpamis Jumabekov - 6 years in prison;
Dauletkeldi Nadirbayev, Adilbek Sariyev, Kongratbay Bekpolatov, Ruslan Baimbetov, Kuanyshbay Bakhiyev, Islam Saparov, Zairbek Pirjanov, Rakhimjan Jumabayev, Aydos Yesemuratov, Kuanyshbay Begaliyev va Manas Rakhmanov - 7 years in prison;
Nusret Bauyetdinov - 7 years and 6 months in prison;
Nursultan Duysenbayev - 7 years and 6 months in prison;
Rustam Dosimbetov, Nuratdiyin Khabipov va Zamirbek Tadjimuratov - 8 years in prison;
Azamat Allanazarov - 8 years in prison;
Asilbek Omirzakov - 8 years in prison;
Sharapat Ashirbekov - 8 years in prison;
Dauranbek Ramanov - 9 years in prison;
Omirbek Kurbanov - 10 years and 6 months in prison;
Oralbay Dosnazarov - 11 years in prison;
People who have been released on parole
Alimbay Mirzambetov, Muratbay Pirlepesov, Alisher Sharapov, Ongarbay Mamutov, Timurbek Ismailov, Rasul Sultaniyazov, Abzal Naurizbayev, Nurmukhammed Genjebaev and Amantay Seytmuratov were found guilty of committing the crime provided for in Article 244-3 of the Criminal Code, and each of them was sentenced to 5-year restriction of liberty;
Abdimalik Khodjanazarov and Yesimkan Kanaatov - 5-year restriction of liberty.
It was decided to collect material damages of more than 6.5 billion soums caused by the committed crimes from the defendants, and to allocate the assets (seized as part of the criminal case) belonging to the defendants to compensation for the damage.
According to the Supreme Court, the parties dissatisfied with this verdict have the right to file appeals through the Court of the Republic of Karakalpakstan to the appellate instance of the Supreme Court's Criminal Trial Panel in accordance with the procedures and deadlines set by the procedural legislation, and the prosecutor has the right to file a protest.