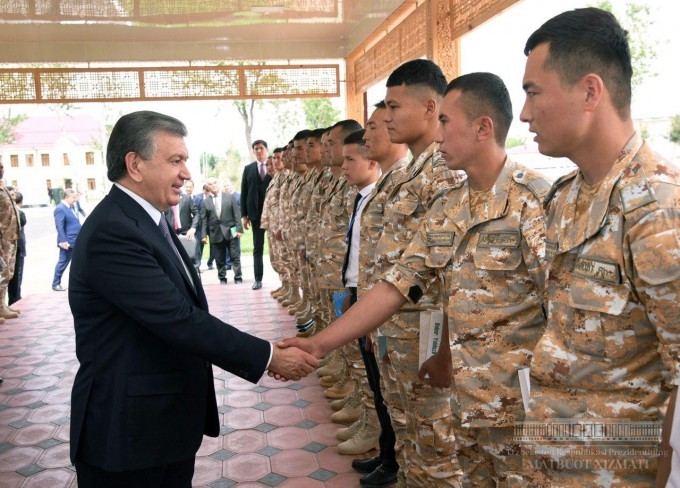 The President of Uzbekistan, Supreme Commander-in-Chief of the Armed Forces Shavkat Mirziyoyev congratulated soldiers and sergeants, officers and generals, veterans of the Armed Forces on the 27th Anniversary of formation of the Armed Forces of the Republic of Uzbekistan and Defenders of the Motherland Day.
The President expressed his deep gratitude to military personnel for their service in the name of peace and security in the country.
The head of state expressed his gratitude to all the parents of soldiers and officers of the Armed Forces of Uzbekistan who raised their sons brave, strong, real patriots, as well as their spouses, who share all the joys and difficulties of life with them.
As Shavkat Mirziyoyev noted, in today's difficult times, when the world is increasingly exacerbated by threats of international terrorism, extremism, challenges of national and global security, our highest priority remains to increase the combat capability of the Armed Forces, strengthen their material and technical base, provide modern weapons, improve physical, spiritual and intellectual training of military personnel, strengthen their social protection.
A new Defense Doctrine has been developed, reflecting the firm position of the country in military-political issues. As a result of the ongoing cardinal reforms, the national army becomes mobile, compact and powerful, able to adequately repel any threat.
Increasing professional knowledge and skills, intellectual and psychological training, enhancing the spirit of patriotism of servicemen are extremely important in this process.
Mirziyoyev once again congratulated compatriots, courageous and brave defenders of the Motherland, wished them good health, family happiness, success in such a noble and responsible service.