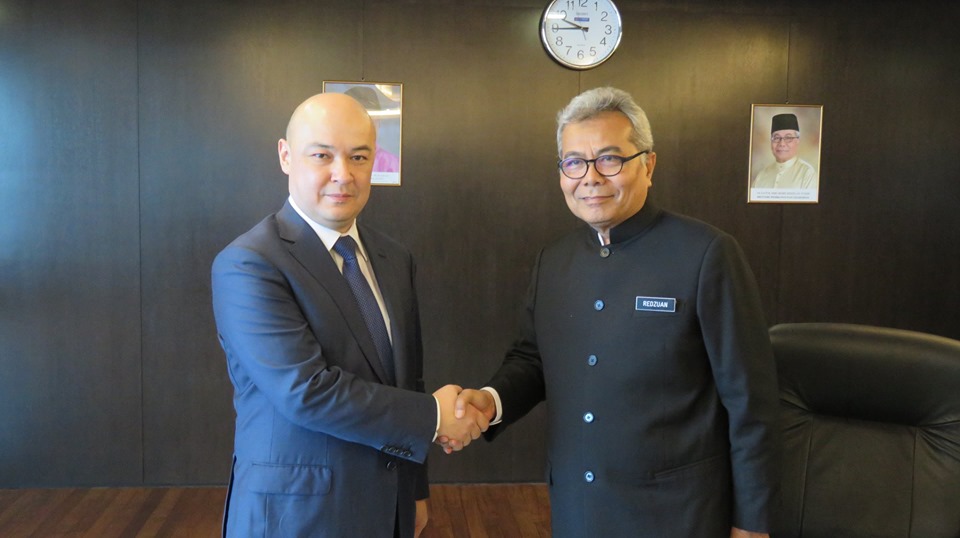 Ravshan Usmanov, Uzbekistan's Ambassador to Malaysia, held talks with the country's Minister of Entrepreneur Development Mohd Redzuan Md Yusof.
According to the press service of the Foreign Ministry, at the meeting, the ambassador provided detailed information on measures implemented in Uzbekistan for improving business climate, supporting entrepreneurship, liberalization of foreign exchange policy, favorable conditions for doing business in free economic zones, as well as agricultural and tourism potential of our country.
"Every family entrepreneur" program implemented in Uzbekistan on wide involvement of the population is of great interest to Malaysian side.
Speaking about significant potential of the two countries, Mohd Redzuan Md Yusof noted the need for establishing closer cooperation between representatives of small and medium-sized business of the two countries, in particular in such spheres as electrical, textile, agricultural industry and others, which will raise mutually beneficial cooperation between the two countries to a completely new level.
It was noted that convenient geographical location of Uzbekistan in the center of Central Asia provides a unique opportunity for foreign companies to enter markets of the region's countries.
The Malaysian side welcomed steps taken in Uzbekistan to introduce halal certification and development of this industry for further increasing the volume of mutual trade, in particular, fruits, vegetables and food products import from Uzbekistan to Malaysia. In order to further develop trade-economic and investment cooperation between the two countries, the Malaysian side was given a list of products exported from Uzbekistan, calendar of exhibitions and events with invitation of representatives of Malaysian business to attend them.
Following the meeting, an agreement was reached on joint development of relevant programs with the Chamber of Commerce and Industry of Uzbekistan in business development, organization of specialized training courses for exchanging experience for representatives of this sphere.