Malaysian RTM to promote tourist potential of Uzbekistan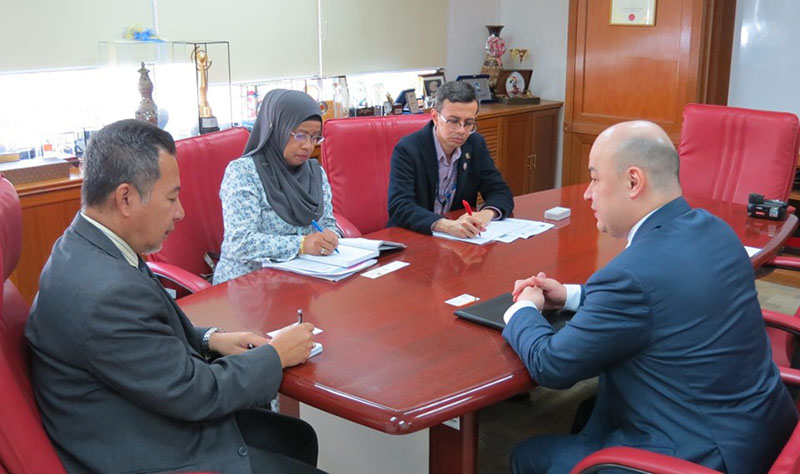 On June 24, 2019, Ambassador of Uzbekistan in Kuala Lumpur Ravshan Usmanov met with the Director General of the State Television and Radio Company of Malaysia (Radio Televisyen Malaysia - RTM) Abdul Muis bin Shefia.
RTM is the largest public television and radio company, consisting of 36 radio and three television channels.
During the meeting, the Malaysian side was informed about the role and importance of the media in deepening democratic reforms and transformations in Uzbekistan.
The RTM leadership was briefed on the ongoing targeted work to widely promote the tourist potential of Uzbekistan in the Malaysian media. In particular, the leading television channels of Malaysia on a free of charge basis will show video clips featuring trade-economic and investment potential of Uzbekistan, bilateral relations, Ziyorat tourism, as well as cultural-historical heritage of the pearls of the East – Samarkand, Bukhara, Khiva and other ancient cities of our country. At the same time, articles are actively published on Internet publications, newspapers and magazines, thanks to which the people learn about the history, culture, architecture and national cuisine of the republic even in the most remote areas of Malaysia. Also, appointment of tourism ambassadors (Tourism Ambassador and Islamic Tourism Ambassador of Uzbekistan) in Malaysia was noted.
In turn, the Malaysian side voiced its intention to send RTM representatives to participate in the upcoming "Sharq taronalari" International Music Festival in Samarkand and the International Festival of Applied Arts in Kokand on September 10-15 in order to widely publicize planned events as well as historical heritage of Uzbekistan.
RTM Director General also stated his readiness to establish cooperation with the National Television and Radio Company of Uzbekistan in the field of exchanging experience and training of specialists within the framework of the existing Asia-Pacific Broadcasting Union (ABU).
As a result of negotiations, the following agreements were reached:
- on mutual coverage of significant events in the public life of the two countries;
- on exchange of data and airtime, including through creation of joint television programs on culture, art and cooking;
- on broadcasting video materials about the tourist potential of Uzbekistan on RTM channels free of charge.