Shavkat Mirziyoyev chairs Security Council meeting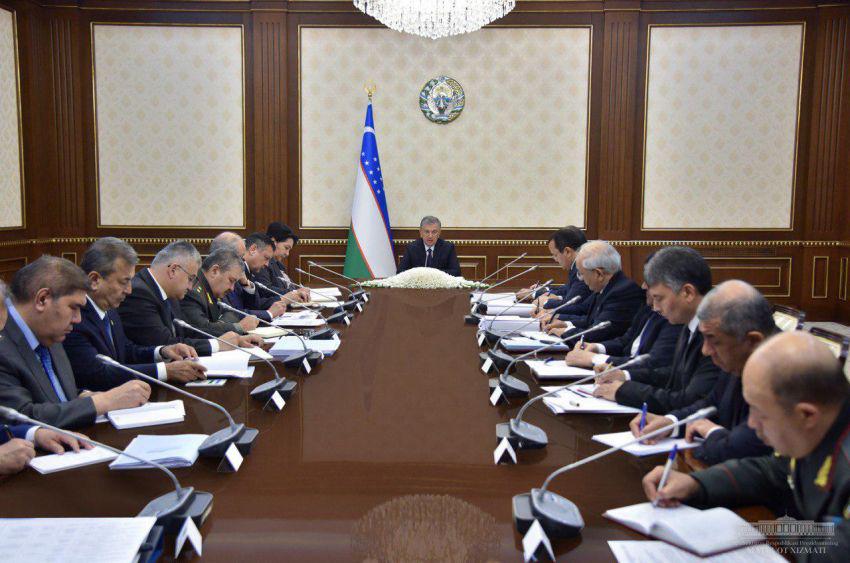 Today, August 15, an extended meeting of the Security Council, chaired by the President of Uzbekistan, was held to discuss the main of the foreign policy and foreign economic activities of the country and priorities for the future, the presidential press service reports.
The event was attended by the heads of the chambers of Oliy Majlis, the Presidential Administration, the Cabinet of Ministers, the State Security Service, the National Guard, the General Prosecutor's Office, the ministries of foreign affairs, investment and foreign trade, defense, internal affairs, the SSS border security forces, the State Committee for Defense Industry, the National Center for Human Rights, as well as the Secretary of the Security Council under the President.
At the meeting, the practical results of our country's cooperation with foreign partners, current trends on the global agenda, as well as contemporary challenges and threats to stability and security in the world and the Central Asian region were examined. The main tasks of foreign policy and foreign economic activity for the coming years were determined.
The need for ensuring tight control from the parliament side over the timely and high-quality implementation of the agreements reached in the trade-economic and investment spheres was emphasized.
Special attention was paid to the participation of Uzbekistan in the activities of authoritative international organizations such as the UN, SCO, CIS, OIC, and tasks were identified to promote the initiatives of our country within these structures.
During the meeting, implemented activities were critically evaluated and specific instructions were given to the heads of the responsible ministries and departments to further build a mutually beneficial dialogue with partner states, as well as to ensure national interests within the framework of bilateral and multilateral cooperation.