Archaeologists discover a cemetery of the Turkic Khaganate settlers in Tashkent region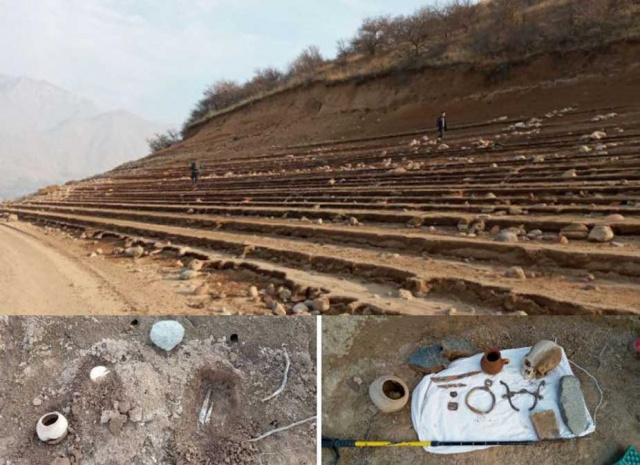 Uzbek archaeologists have discovered a cemetery of settlers of the Turkic Khaganate (VI-VII centuries BC), located at a distance of 100 kilometers from Tashkent in the north-east, at an altitude of 1,000 meters above sea level in the west of the Tian Shan, UzA reports.
"This ancient cemetery was discovered following the floods, snow and rain," a teacher at Tashkent International School Scott Becker said.
Employees of the National Archaeological Center under the Academy of Sciences of Uzbekistan conducted a one-day field search trip, explored the area, found some skeletons and skull bones. They also managed to find ceramic dishes, iron daggers.
Ancient written sources indicate that in the VI century the Turkic Khaganate occupied the territory from the Black Sea to the Pacific Ocean, uniting all the Turkic peoples of Central Asia.
At that time, the Tashkent region was called "Chach" and it was one of the administrative centers. The ancient Chach, located along the caravan routes connecting the East with the West, attracted many people with its mild climate, fresh water, fertile soil, vast steppes, pastures and underground wealth.
Archaeologists are always happy to find the remains, especially since the Khaganate settlers influenced further development of the Uzbek people.
The rarity of such findings in Tashkent region further emphasizes the importance of this new archaeological discovery. Therefore, burials in this cemetery, which decompose from year to year, must be excavated and studied.
To this end, the National Archaeological Center has established a research group on nomadic cultures in the Western Tian Shan, which plans to conduct extensive archaeological research in the area.