"645 cases of unreasonable overpricing of products were revealed" – Erkin Yuldashev
Deputy Prosecutor General Erkin Yuldashev, at a briefing organized at the headquarters of AIMC, provided information about the work done to prevent the unreasonable increase of prices in markets. He noted that the focus is on solving the problems of entrepreneurs.
"If the price is artificially inflated in manufacturing or wholesale, naturally, retail prices will also rise. Therefore, measures are being taken to prevent cases of sale of goods at inflated prices in refrigerated warehouses and wholesale distribution bases.
To prevent price increases, special attention is being paid to solving the problems of entrepreneurs. For example, Bonanza Trade Export LLC was provided assistance in obtaining a $1 million loan to organize the import of potatoes from abroad to Uzbekistan.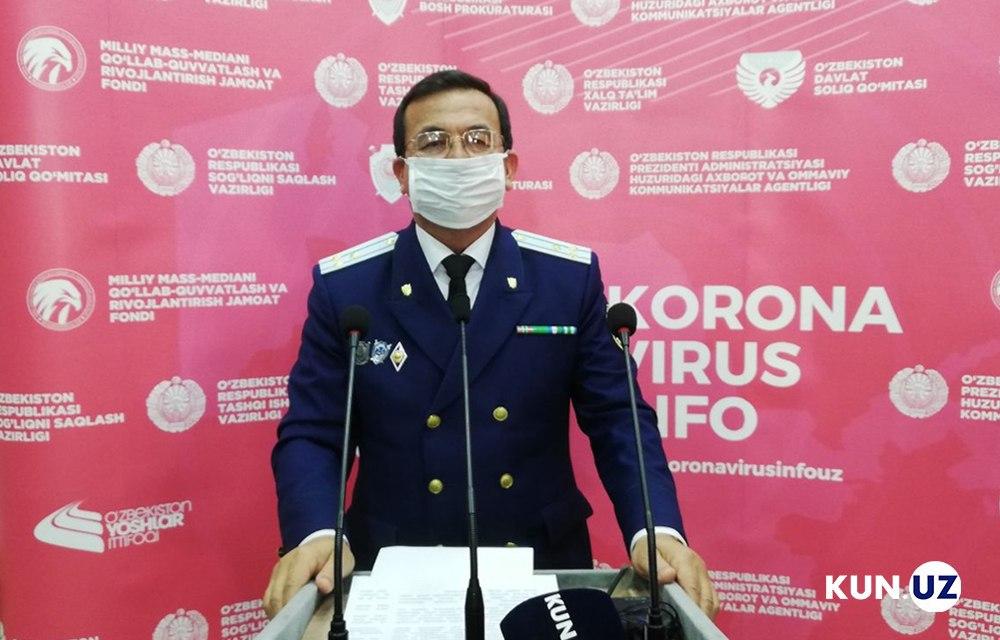 Practical assistance was provided in setting preferential prices for the transportation of potatoes by rail and obtaining relevant permission from the State Plant Quarantine Inspectorate," Kun.uz correspondent quoted the Deputy Prosecutor General as saying.
Reportedly, in a short period of time, the Prosecutor's Office provided similar practical assistance in solving problems to more than 1,400 business entities.
The Deputy Prosecutor General recalled that 10 trillion soums are directed to support the smooth functioning of economic sectors, to prevent a sharp decline in household incomes. The Ministry of Finance, together with the State Tax Committee, established special control over exchange trading in order to prevent unjustified price increases for flour, vegetable oil, sugar and tin bread.
"Unfortunately, in the course of control measures, cases of unjustified overpricing of food, medicine and medical products by individual business entities were also revealed. In particular, in the course of the measures taken in 645 cases, an overstatement of prices for products totaling 1 billion 735 million soums was revealed and the offer of these products to the population at affordable prices was ensured. Administrative measures have been taken against 502 citizens who have committed this violation," Erkin Yuldashev added.
According to Erkin Yuldashev, fairs for the sale of 27 types of goods at affordable prices are organized in markets throughout the country. In Tashkent alone, such fairs sell 27 tons of meat, 31 tons of potatoes, 46 tons of onions, 54 tons of vegetables, 15.5 tons of melons, 20 tons of fruits and 2.5 tons of rice.
Erkin Yuldashev also informed about prices on dekhkan markets as of March 25.
"As of March 25, on the dekhkan markets, 1 kg of beef and mutton is sold on average at a price of 40-45 thousand soums, chicken on average 17 thousand soums, potatoes 2,800-4,000 soums, onions 1,100-1,800 soums, carrots 1,000-1,400 soums, tomatoes on average 12,500 soums, cucumbers 9,000 soums, vegetable oil 10,200 soums, cottonseed oil 9,500 soums, eggs 500-700 soums, flour 2,800-3,100 soums, rice 7,000-8,500 soums, sugar 5,500 soums and bread from first grade flour 1,500 soums," he said.