Shavkat Mirziyoyev to take part in UNGA session, deliver a speech in the Uzbek language for first time 
President of Uzbekistan Shavkat Mirziyoyev will take part in high-level general political debates at the 75th session of the UN General Assembly (UNGA 75) on 23 September.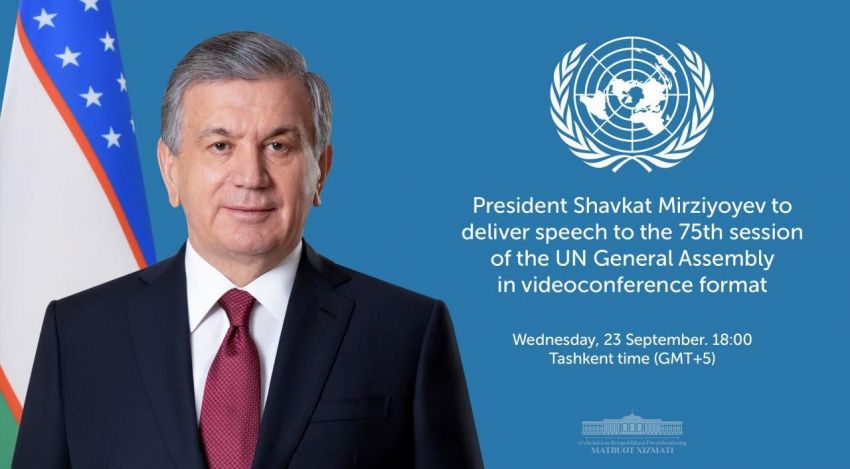 It is noted that the central events of the General Assembly are to take place in videoconference format due to the epidemiological situation in the world.
According to Kun.uz source, for the first time in the history of independent Uzbekistan, the head of state is expected to speak in the Uzbek language.
Shavkat Mirziyoyev first delivered a speech at the General Assembly on September 12, 2017, at the UN Headquarters in New York. The President's speech was in Russian. He put forward five proposals at the session, four out of which have already been implemented.
In his address to the upcoming session, President Mirziyoyev is expected to present the international community with his vision of the pressing issues on regional and global agenda and outline priorities of the political, social and economic modernization of Uzbekistan. He will also put forward a range of important initiatives designed to bolster peace and stability, secure sustainable development, enhance constructive dialogue in the region and at the global level, promote human rights and freedoms, as well as address contemporary challenges and threats, including climate change, food security, poverty reduction.
It should be noted that the President said in his address to the Oliy Majlis earlier this year that he intends to promote the issue of membership in the UN Human Rights Council in 2021-2023.