The World Bank has published its Global Economic Prospects report on Tuesday. According to the bank's forecast, the economy of Uzbekistan will be recorded at 4.3% and 4.5% in 2021 and 2022, respectively.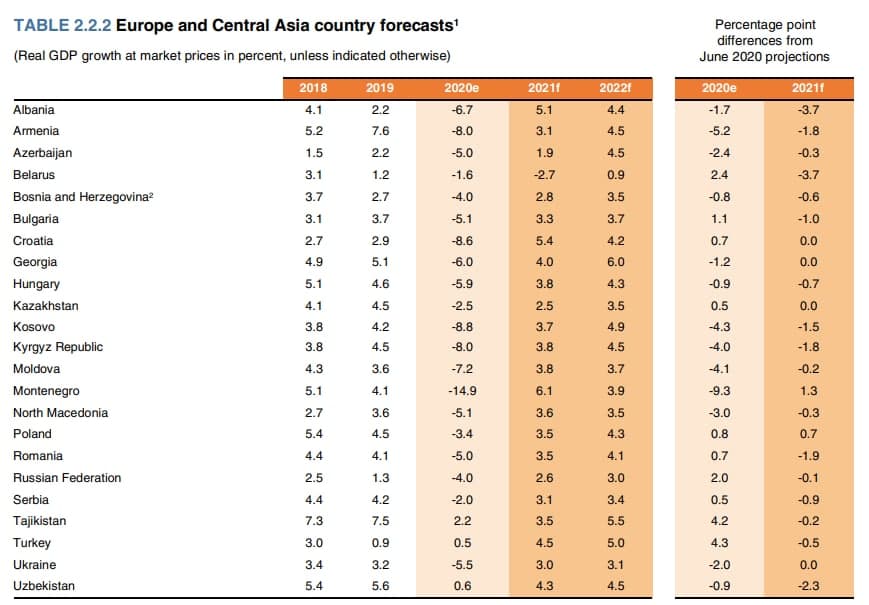 The WB projected Uzbekistan's GDP growth in 2020 at 0.6%.
In Central Asia, growth is expected to recover to 3 percent in 2021, supported by a modest rise in commodity prices and foreign direct investment as the subregion deepens its integration with China's Belt and Road Initiative. Forecasts for a rebound, however, have been downgraded due to rising policy uncertainty in Central Asia, particularly in the Kyrgyz Republic, following political tensions and social unrest.
"Risks to the outlook are markedly tilted to the downside, despite the development of multiple COVID-19 vaccines with high efficacy rates in trials. The near-term growth outlook for ECA is clouded by the sharp rise in uncertainty over the surge in new cases, which has contributed to social unrest in some countries, as well as the risk of geopolitical tensions re-escalating. The pandemic also poses medium-term risks if protracted spells of unemployment and school closures have a significant impact on human capital development through lost opportunities to acquire skills and gain knowledge," the report says.