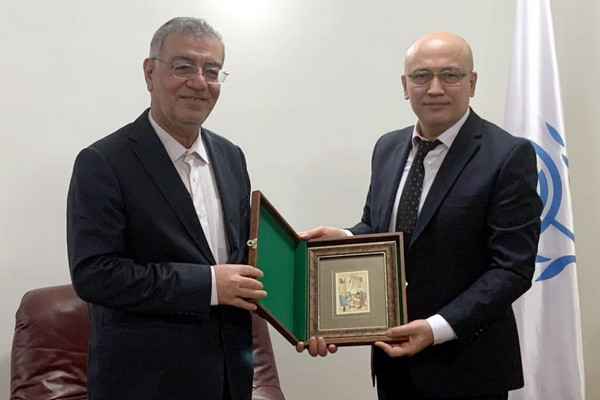 On March 7, 2021, Deputy Foreign Minister of Uzbekistan Furkat Sidikov met with the Secretary-General of the Economic Cooperation Organization (ECO) Hadi Soleimanpour, in Tehran.
The parties discussed the current state of bilateral relations and prospects for further strengthening the cooperation between Uzbekistan and the ECO. The sides also exchanged views on the planned joint activities, in particular, holding the next meeting of the ministers of agriculture and tourism of the ECO member states in 2021 in Uzbekistan.
Particular attention was paid to the practical aspects of implementing the initiatives put forward by the President of Uzbekistan Shavkat Mirziyoyev during the 14th ECO summit, which was held on March 4, 2021, in the format of video conferencing.
The ECO Secretary-General stressed that the proposals of the head of Uzbekistan aroused great interest and support in the Organization's member states.
It was stated that within the framework of large-scale economic reforms being implemented in Uzbekistan, consistent measures are being taken to protect the interests of entrepreneurs and foreign investors.
In this context, it was noted that in recent years, the total trade turnover of Uzbekistan with the member countries of the Organization has increased by 1.5 times and amounted to $9 billion. About 5,000 enterprises of the ECO member states operate in Uzbekistan.
Sidikov invited the ECO Secretary-General to the high-level international conference "Central Asia and South Asia: Regional Connectivity. Challenges and Opportunities", which will be held this year in Tashkent.
During the talks, other topical issues of interaction between Uzbekistan and the Organization were also considered.