Mark Reese, who translated the novel "Bygone Days" ("O'tkan Kunlar") into English, appealed to President Shavkat Mirziyoyev, saying that the promised fee has not been paid for 5 months. Kun.uz contacted the Writers' Union and the Department of State Language Development under the Cabinet of Ministers for comment.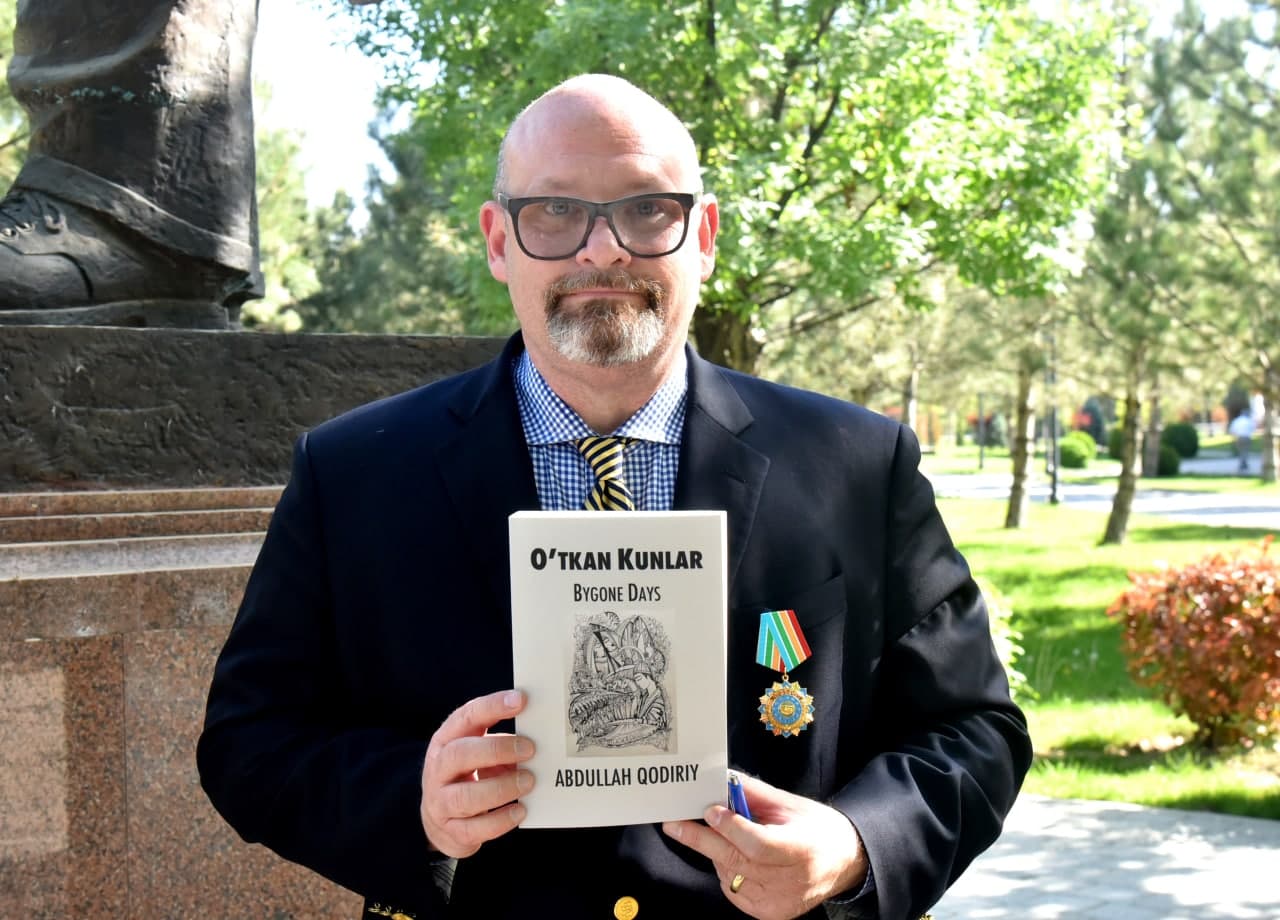 Mark Edward Reese, an American culturologist who translated Abdullah Qodiriy's novel "Bygone Days" into English, wrote on Twitter that an Uzbek official had asked him to waive the honorarium promised by the president five months ago.
"Five months ago, you rewarded me with a good honorarium and promised to buy a thousand copies of the English translation of "Bygone Days" and distribute them to embassies," Mark Edward Reese appealed to the Uzbek president.
According to the translator, a day before he left Tashkent in May, one of the officials working in the government called Khondamir Qodiriy, the grandson of Abdullah Qodiriy, a friend of the translator, and said: "I will meet with the President in seven minutes. He wants to know how much we paid Mark during his visit. We didn't give him money. Can Mark forgive and forget this?"
"And I said to that government official: "Are you asking me to deceive President Mirziyoyev? Go and have your tea". After my attitude like that, that employee threatened my friend.
I was shocked by such an unexpected situation. A day before the incident, I met with Mr. Sultanov (presidential adviser – Khayriddin Sultanov) and saw him as a professional. He has also done translations and I think he deserves his current place. But the bottom line is that the actions of top leaders are being blown up by corrupt people in the middle," Mark Edward Reese wrote.
The translator also wrote that he had been offered a job at the Alisher Navoi University of Language and Literature, but rejected it.
He said the online meeting was also attended by an employee from Uzbekistan who threatened his friend and offered to "forget and forgive" the honorarium.
"I don't want to move to Tashkent with my son and hand over my security to the same man who encouraged me to cheat on you and threatened my friend.
You know, I've done a lot of interviews in the last 3 years. I conducted free online classes at the Navoi Institute. I covered my travels at my own expense.
My insecurities have increased significantly. Nevertheless, the people of Uzbekistan, your support is holding me back. There are more conscientious people in Uzbekistan than unscrupulous ones. But one or two people can obstruct Uzbekistan and your reforms," Mark Edward Reese wrote.
The translator said that he had opened the account (@uzbekmodernist) to promote Uzbek literature and culture, and he did not like using the channel to draw attention to the misconduct of some government officials.
Kun.uz contacted the Writers' Union and the Department of State Language Development under the Cabinet of Ministers for comment.
Botirjon Ergashev, deputy chairman of the Writers' Union, said that the association was not dealing with the issue and the organization had nothing to do with it.
According to Abdugaffor Kyrgyzbayev, head of the State Language Development Department, the issue of payment was being considered.
"We didn't order the book translation in the beginning. We agreed that Mark Edward Reese will be paid a honorarium of $10,000 when brings the finished version. A decision was made to buy 1,000 books. He was also offered to work at the Institute of Language and Literature, a monthly salary of $2,000 and provision of free accommodation. He did not accept our job offer. At the moment, consultations are underway on the payment of honorarium," he said.