The Embassy of our country in Paris organized online negotiations between the leadership of the Uztukimachiliksanoat Association and representatives of the Union of Textile Industry, the Federation of Knitwear, Underwear and Swimwear of France, Kun.uz correspondent reports.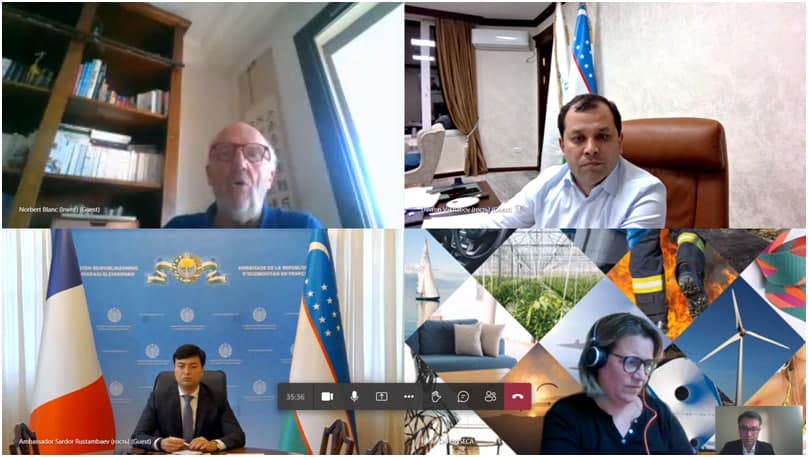 During the talks, the Ambassador of Uzbekistan Sardor Rustambayev informed the French side about the large-scale reforms being carried out in the country to stimulate deep processing, production and export of finished products with high added value. The attention of the participants was drawn to the opening up new opportunities for foreign, including French, companies to develop mutually beneficial partnerships in the light industry.
Vice-President of the French Textile Industry Union Norbert Blanc highly appreciated the transformations in Uzbekistan, emphasizing the importance of modernizing the textile industry.
"Uzbekistan is one of the key producers of cotton and its products, has a skilled workforce, and a favorable business climate, which gives it a comparative advantage," he stressed.
In this regard, they were invited to prepare and sign a Cooperation Agreement (MoU) between the French Textile Industry Union and the Uztukimachiliksanoat Association, indicating specific measures and actions to maintain a long-term partnership.
The French side also expressed its readiness to organize meetings and negotiations between entrepreneurs of the two countries as part of the stay of the Uztukimachiliksanoat delegation in Paris on February 7-9 this year to participate in the international exhibition Apparel Sourcing Paris.

The issue of organizing a business mission of French companies to Uzbekistan in late May – early June of this year was discussed to familiarize themselves with production facilities and discuss establishing partnerships with manufacturers of the republic.
First Deputy Chairman of the Uztukimachiliksanoat Association Davron Vakhabov said that Uzbekistan has now switched to a full cycle of cotton processing and production of finished products, as a result of which textile products worth $3 billion were exported in 2021. He noted that today the number of companies with certificates recognized in Europe is growing, as evidenced by examples of successful cooperation with individual European countries.
It was emphasized that the so-called problem of child and forced labor during the cotton harvest no longer exists in Uzbekistan. This is evidenced by the reports of the ILO and other international organizations.
As a result of the negotiations, an agreement was reached on close cooperation to establish mutually beneficial cooperation.