The delegation of Poland, who was in Uzbekistan as part of the participation in the first international investment forum, visited the Tashkent Metallurgical Plant (TMP), where they met with the Director General Zafar Tuychiyev. The meeting was also attended by the Ambassador of Uzbekistan to Poland Bakhrom Babayev, a Dunyo correspondent reports.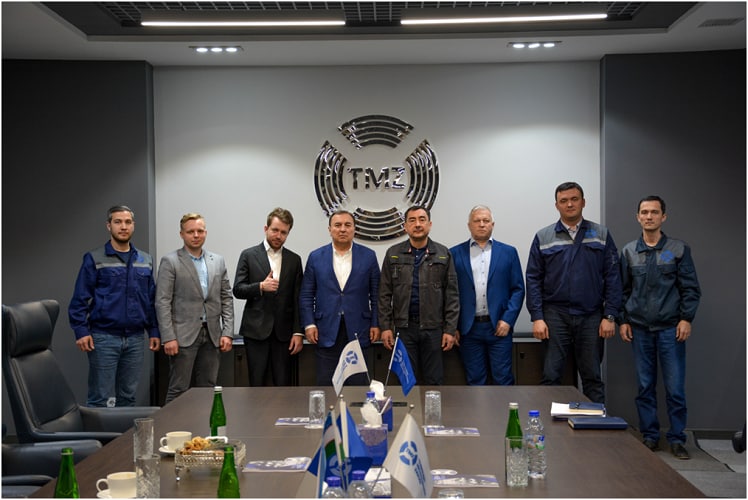 The guests were acquainted with the production process and high-tech equipment, visited the workshops of the enterprise. Following the visit, they highly appreciated the production processes at one of the largest and most modern industrial enterprises in Uzbekistan.
During the subsequent meeting with the management of TMP, the Polish guests were provided with detailed information about the history of the establishment of the plant with the participation of the Fund for Reconstruction and Development of the Republic of Uzbekistan and a foreign investor, providing the steel consumer market with high-quality import-substituting products that can compete with manufacturers from near and far abroad. This, in turn, allows domestic manufacturers of the construction, industrial and other industries to seriously reduce their costs and prices.
A well-known Polish businessman, Honorary Consul of Uzbekistan in Poland, Piotr Kocon, to whom a number of Polish companies delegated the authority to represent them at meetings and negotiations in Tashkent, stressed that current trends in the construction sector of Uzbekistan are developing rapidly and consumer demand necessitates the development of new types of modern coated steel products for the construction sector.
"We got acquainted with the production process at this modern industrial enterprise according to European criteria, examined the various products of the plant in the showroom. Here we held a videoconference meeting with the management of the largest plant in Poland "Intermetal", familiarized with the quality of products and prices. Upon arrival in Poland, we will organize a wide presentation of the plant for our specialists.
Currently, galvanized rolled products with a polymer textured coating are popular among consumers both in Poland and in Europe. Due to the improved aesthetic appearance, increased resistance to climatic conditions and their decorative properties, these products have already proven themselves in Poland from the best side and are superior in quality to the products of many well-known manufacturers of polymer-coated rolled metal," he said in an interview with Dunyo IA.