Ambassador of Uzbekistan Mukhsinkhodja Abdurakhmanov met with Makoto Nishizako, Vice President of the Japanese YKK Corporation, Kun.uz correspondent reports.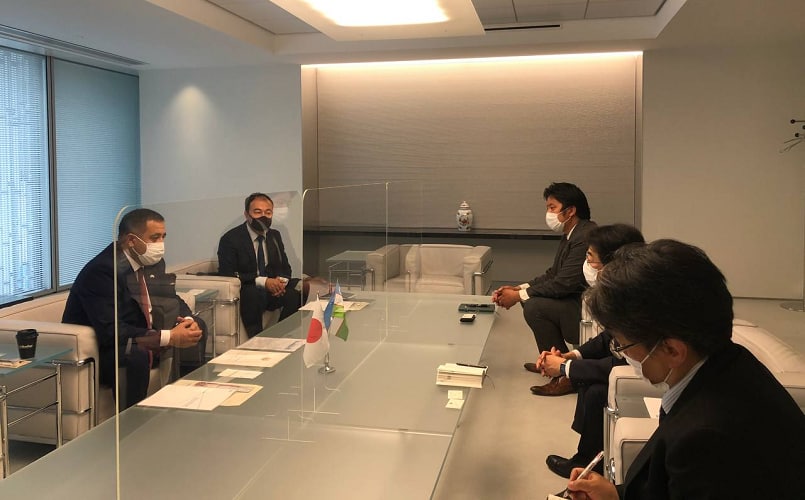 During the negotiations, Makoto Nishizako got acquainted with the investment potential and export opportunities of the textile industry in Uzbekistan. The cluster system, which has grown over the past few years, has grown in a wide range of competitive products and export opportunities.
It was also emphasized that the International Coalition "Cotton Campaign" decided to cancel the global boycott of Uzbek cotton. The attention of Japanese partners was drawn to the fact that the abolition of the cotton boycott would help attract world brands to Uzbekistan and increase the volume of exports of Uzbekistan's products to foreign countries, including Japan, by 1,196 Uzbek textile enterprises.
Makoto Nishizako was interested in the production capacities of textile enterprises, the import of zippers and rivets, and the logistics routes for products exported and delivered to the republic. He noted that he learned a lot about Uzbekistan for himself, and sees prospects in establishing business contacts, and also assured that he would work out issues of bilateral cooperation between YKK Corporation and Uzbek companies.
Based on the results of the negotiations, the main priority areas of cooperation were identified, an agreement was reached on further elaboration of joint proposals, including those received from YKK Corporation.
The Japanese YKK Corporation was founded in 1934 and is the world's largest developer and manufacturer of zippers. The range includes unique technical and modern solutions in the field of fixation systems made of metal and synthetic materials. In the early years, the company was named after founder Yoshida Kogyo Kabushikaisha – or YKK. The letters YKK were embossed on the zipper tabs and became a well-known trademark of the company. The company currently has 111 offices in 73 countries.