In the Polish city of Poznan, the Ambassador of Uzbekistan Bakhrom Baboyev held meetings and negotiations with the mayor of the Greater Poland Voivodeship (head of the region) of Poland Marek Wozniak, the First Deputy President of the Chamber of Commerce and Industry (CCI) of the voivodeship Janusz Libicki, as well as the head of the CHEM TRADE CENTER company Przemysław Furmanovsky, a Kun.uz correspondent reports.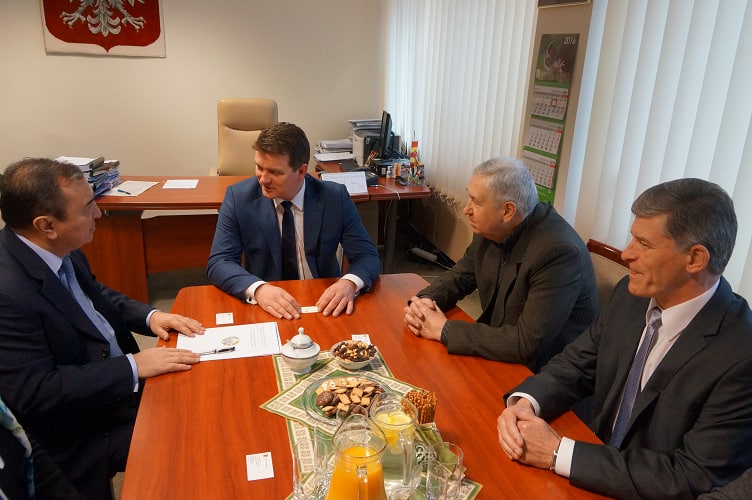 Issues of bilateral partnership, the possibility of establishing privileged relations between the voivodeship and Kashkadarya region, as well as the exchange of delegations in the second half of 2022 were discussed.
During the meetings, the achievements of Uzbekistan in ensuring sustainable growth rates and macroeconomic balance, improving the business climate, reliable protection of private entrepreneurship and small businesses, attracting foreign investment in the national economy and other aspects were announced.
Issues of interregional cooperation in the production of building materials, power equipment, the development of agriculture and agricultural engineering, the pharmaceutical industry, and the growth of tourist exchanges were discussed with the head of the Greater Poland Voivodeship Marek Wozniak.
The head of the region noted that Poland is aware of the changes being made in Uzbekistan to strengthen the role of the legislative branch, liberalize the judicial and legal sphere, fight corruption, protect entrepreneurs and improve the business climate.
Janusz Libicki, First Deputy President of the Chamber of Commerce and Industry of the Voivodeship, emphasized a positive attitude towards cooperation with Uzbekistan, especially in areas where there is a need. He noted that he would fully organize the visit of business circles of the region to Uzbekistan.
The CCI also organized a presentation on the topic "Strategy for the Sustainable Development of New Uzbekistan".
At a meeting with the head of CHEM TRADE CENTER, Przemyslav Furmanovsky, it was noted that the Polish company has been the main importer of copper sulfate and zinc sulfate produced by the Almalyk Mining and Metallurgical Combine over the past years, being an exclusive client for the supply of products to companies in Poland and a number of European countries.