As part of the visit of the government delegation of Uzbekistan to Japan, a meeting was held between Deputy Prime Minister - Minister of Investment and Foreign Trade Sardor Umurzakov and Chairman of the Japan Bank for International Cooperation (JBIC) Tadashi Maeda.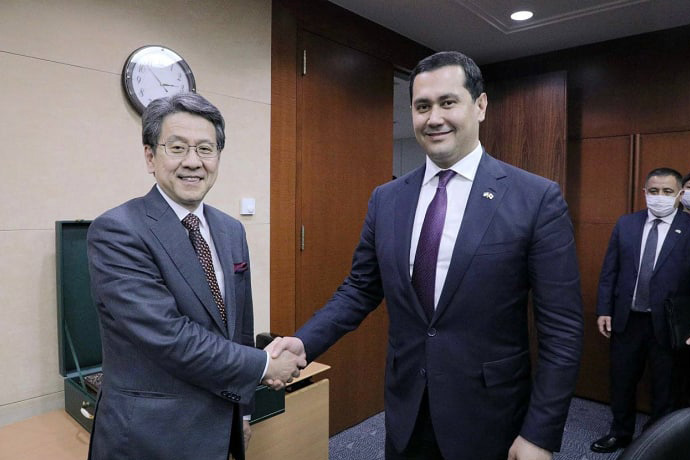 According to the Ministry of Investments and Foreign Trade (MIFT), during the talks, the parties discussed the further development of mutually beneficial cooperation, the implementation of joint projects in Uzbekistan, as well as opportunities for expanding the Bank's investment portfolio in the country.
It was noted that JBIC has long been a reliable partner of Uzbekistan in terms of the implementation of large industrial and infrastructure projects.
To date, with the involvement of the bank's resources, 11 projects have been implemented in the country in the field of energy, information and communication sector and in various industries with a total value of $2.7 billion, of which $1.4 billion was invested by the Japanese side.
Positive trends were emphasized in increasing the involvement of large Japanese businesses in the implementation of projects in Uzbekistan. The project for the construction of a combined cycle plant with a capacity of 1600 MW at the Syrdarya TPP was especially noted by a consortium of companies Energy de France (France), Nebras Power Investment Management B.V. (Qatar), Sojitz Corporation and Kyuden International (Japan).
This project is one of the largest public-private partnership projects in which Japanese companies participate through their own direct investments. The Uzbek side welcomed the initiative of JBIC to allocate funding for this project and assured the Japanese side of its readiness to provide comprehensive support for its successful and timely implementation.
During the meeting, the prospects for the implementation of new projects of public-private partnership in the field of water supply in Uzbekistan using water-saving technologies of leading Japanese companies were also considered.
Following the meeting, an agreement was reached to intensify interaction in order to further develop new areas of cooperation.