During his visit to Massachusetts, the Ambassador of Uzbekistan Javlon Vakhabov met with the mayor of the city of Cambridge Sumbul Siddiqi.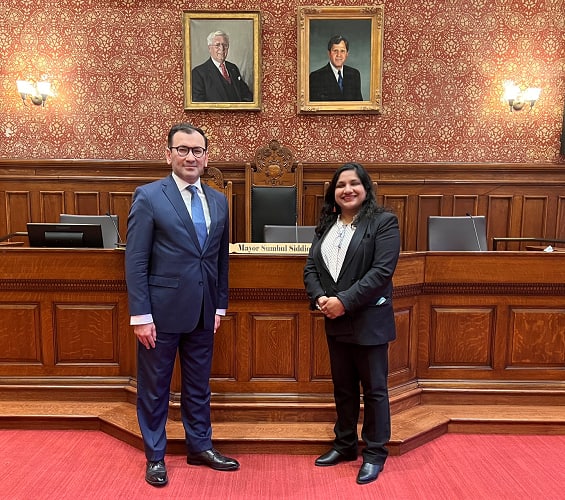 During the talks, the parties discussed the prospects for establishing partnerships, building up trade-economic, cultural and humanitarian ties with the American side, exchanging experience of the parties in the field of urban infrastructure management, and cooperation with leading universities in the region.
At the beginning of the event, the American side got acquainted with the ongoing reforms in the country to liberalize the economy, create a favorable investment climate, and strengthen human capital aimed at ensuring the competitiveness and innovative development of the country. The mayor paid special attention to expanding the geography of cooperation between the regions of Uzbekistan, strengthening partnerships with major US cities, as well as the growth of entrepreneurial activity by American investors in the domestic market and intensive cooperation between the universities of our countries.
Mayor Sumbul Siddiqi, welcoming the ongoing progressive reforms in our country, noted the correctness and importance of investing in human capital. In her opinion, well-educated specialists are the main drivers of sustainable economic development and sources of new discoveries. According to the mayor, manufacturing was an important part of Cambridge's economy in the late 19th and early 20th centuries, but today educational institutions are its biggest employers. For example, about 20,000 people work together at Harvard and the Massachusetts Institute of Technology. As a cradle of technological innovation, many technology companies have been established in Cambridge.
Separately, it was noted that innovative institutions and research centers in the field of healthcare and biotechnology are widely represented in the city. This series also includes Pfizer, AstraZeneca and Moderna, which were among the first to develop a coronavirus vaccine.
Following the negotiations, an agreement was reached on establishing the practice of exchanging experience of the city of Cambridge in the field of stimulating advanced education and managing large municipalities, as well as initiating the establishment of partnerships with one of the cities of our country.
For information, Cambridge was founded in 1630, received city status in 1846, named after the University of Cambridge in England with a population of 120 thousand people, is part of the Boston metropolitan area. It is considered one of the educational centers of the United States.