Today, the People's Diplomacy Forum of the Shanghai Cooperation Organization began its work in Tashkent on the theme "Public Diplomacy – Mutual Understanding for the Sake of Development".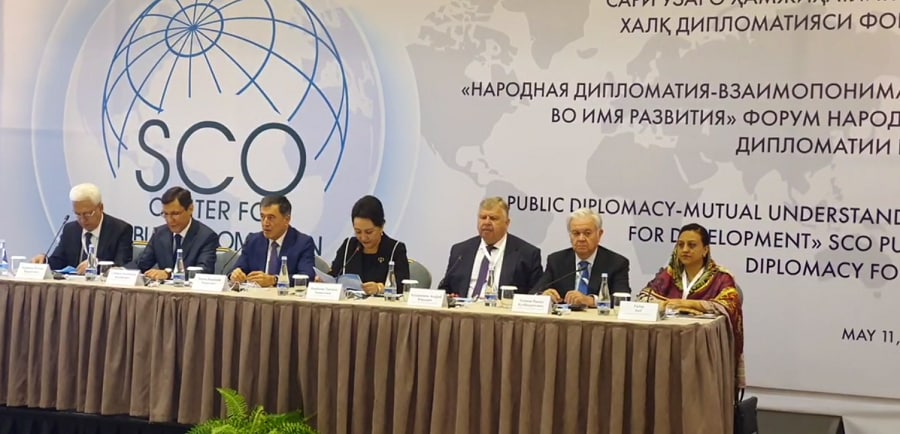 The event, which is being held in a hybrid format, is being attended by Chairperson of the Senate of Oliy Majlis Tanzila Narbayeva, Acting FM Vladimir Norov, Deputy Chairman of the Standing Committee of the National People's Congress of China, Chairman of the SCO China Committee for Good Neighborliness, Friendship and Cooperation Shen Yueyue, SCO Secretary General Zhang Ming, Chairman of the Committee on Interethnic Relations and Friendly Ties with Foreign Countries under the Cabinet of Ministers of Uzbekistan Rustam Kurbanov, Head of the UN Regional Center for Preventive Diplomacy in Central Asia Natalia German.
During the forum, participants will discuss the relevance of public diplomacy in the modern world, the efforts of Uzbekistan to develop this institution in the activities of the SCO, as well as the promotion of cultural diversity and the rich tourism potential of the organization.
Welcoming the forum participants, Tanzila Narbayeva, Chairperson of the Senate of Oliy Majlis, said: "The modern world is changing under the influence of the contradictory trends of globalization, the emergence of new challenges and threats on the path of sustainable and inclusive development".
According to her, international terrorism, radicalism and extremism, xenophobia and racism, the aggravation of the crisis of confidence between the leading participants in the international system, as well as climate change and the challenges of post-pandemic development and many other problems require concerted global action and the joint adoption of effective preventive and response measures at the regional level.
"Therefore, people's diplomacy is in demand today more than ever. Against the backdrop of a difficult international situation, it acts as an effective tool for finding joint ways to solve common challenges through strengthening mutual trust and understanding between people. It is important for the SCO countries, which unites more than 3.2 billion people on our planet, to continue strengthening cultural-humanitarian cooperation, inter-parliamentary ties, intensify contacts between civil society institutions in our countries, and create the necessary conditions for expanding cooperation between women's and youth organizations," the Senate Chairperson said.