Permanent Representative of Uzbekistan to international organizations in Vienna, Ambassador Abat Fayzullayev held a meeting with the Acting Director of the UN Office for Outer Space Affairs (UNOOSA) Niklas Hedman.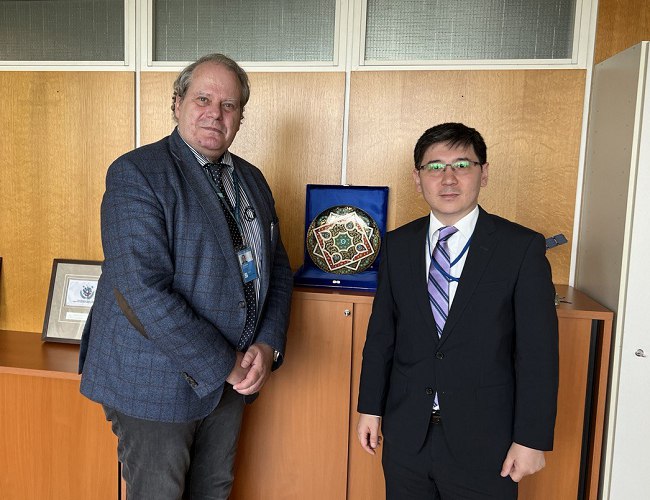 During the meeting, Niklas Hedman was informed about the activities of the Uzbekcosmos Agency, established by decree of the head of our state, which is responsible for the development strategy of the space industry in the country. Favorable conditions available in the republic for broad international cooperation, as well as training in the space industry, have been accentuated.
The head of the UNOOSA welcomed the creation of the Agency for Space Research and Technology in Uzbekistan. He noted that the department is closely following the activities of the agency and stressed its active work, especially in recent times.
In his opinion, an international conference held in Tashkent in May on the topic "Space technologies and their role in socio-economic development" can serve as evidence of such activity. He noted the comprehensive program of the conference, the rich topics of the presentations, as well as the large number of invited experts.
The head of the UNHCR expressed his readiness to strengthen cooperation with the organizations of Uzbekistan. In this connection, he supported the intention of the republic to become a full member of the Committee on the Peaceful Uses of Outer Space (COPUOS), participation in which provides a unique opportunity at the global level to monitor and discuss events and processes related to outer space.
Niklas Hedman informed that the application of Uzbekistan was accepted and positively considered at the meeting of the subcommittees. It is planned to announce the committee's decision on Uzbekistan's membership at the plenary meeting of the next session of the Committee, which will begin its work in early June. This fall, the Committee's statement on the full membership of Uzbekistan will be announced at the next session of the UN General Assembly.
It should be noted that COPUOS is a special UN committee whose main tasks are to review international cooperation and study measures to implement programs for the use of outer space for peaceful purposes, as well as to study legal problems arising in the exploration of outer space. Currently, 95 states are members of COPUOS. In addition, 41 international organizations have observer status to the Committee and its subcommittees.
The UNOOSA, based in Vienna, implements the Space Applications Program and maintains a register of objects launched into outer space. The Office acts as the secretariat of COPUOS.