In a video circulating on the Internet, it can be seen that an employee of the Russian migration service threatened a young migrant with his elbow as if he was going to hit him in the chest during the process of issuing a document, and made other rude actions towards him.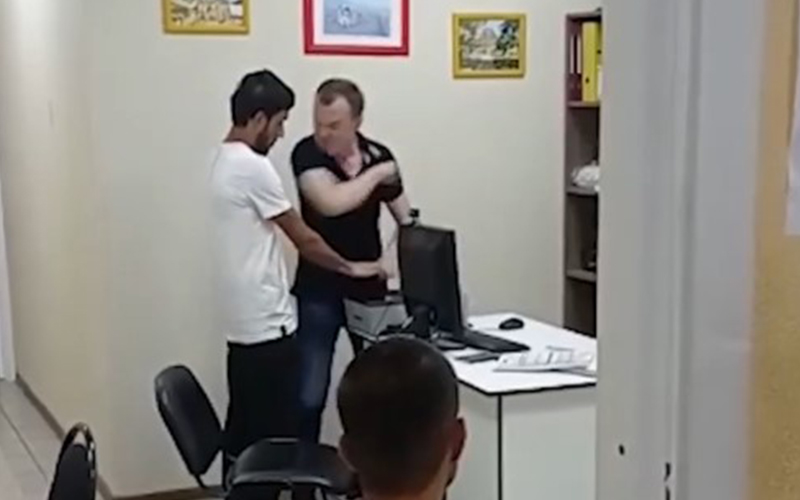 It can be seen from the video that the young immigrant did not respond to the employee who acted inhumanely, but calmly provided the biometric data necessary for obtaining a patent.
According to Mash resource, which posted the video, referring to the witnesses of the incident, this is not the first time that the same migration officer has a negative attitude towards foreign citizens.
According to the Foreign Labor Migration Agency of Uzbekistan, the incident in the video happened on June 28, in the migration center of Voronezh. The incident was filmed by a citizen of Uzbekistan M.I. and presented to the representative of the Foreign Labor Migration Agency in Voronezh on July 1.
After that, in cooperation with the Consulate General of Uzbekistan in Moscow, the identity of the citizen in the video was clarified, and a meeting was organized on July 4. At the meeting, citizen A.G. said that he went to Voronezh for work on June 1, 2022, he was used force by the responsible employee during the fingerprinting process at the Migration Center on June 28 to proceed with his documents, and he had no complaints about his health.
The incident was investigated in detail and a note was made to the relevant authorities with additional information.
For information, on July 5, Speaker of the Legislative Chamber of Oliy Majlis Nurdinjon Ismoilov and the Chairman of the Russian State Duma Vyacheslav Volodin held a meeting in Moscow.
"Citizens of Uzbekistan are in the first place in terms of labor migration to the territory of the Russian Federation. More than 1,800,000 Uzbek citizens are working in Russia, and last year they sent $8 billion to their homeland. This is a great contribution to the economy of Russia and Uzbekistan," Vyacheslav Volodin said in a meeting with his Uzbek colleague.
Last year in Tomsk, an employee of the migration service beat up a citizen of Uzbekistan. Later, a criminal case was initiated against him.