Ambassador of Uzbekistan Javlon Vakhabov held a meeting with the regional representative of the American company "Meta" (Facebook) in China, Mongolia and Central Asia, George Chen.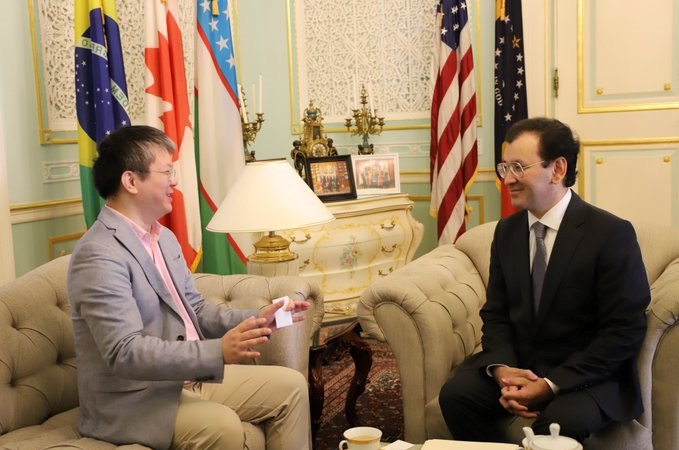 During the meeting, the American side was informed in detail about the current transformations in our country to ensure the openness and transparency of the work of government bodies, Uzbekistan's firm commitment to ensuring freedom of speech and the media, including in the Internet space, as well as efforts to train highly qualified domestic IT specialists.
The representative of "Meta" noted that the new dynamics in the Internet space of Uzbekistan and the special attention paid by the Government to solving problems in the field of ensuring the openness of state bodies and freedom of speech are fully consistent with the policy of this technology conglomerate.
George Chen said that "Meta" shares the desire of the Uzbek side to establish close mutually beneficial cooperation. He expressed his readiness to assist in the training of gifted specialists of our country in the field of IT and digital technologies, in particular through the organization of joint trainings and the attraction of Meta's innovative developments to our country. Thus, students of Meta educational programs can also expand their knowledge in the field of business promotion on Facebook and Instagram social networks by studying the principles of operation of the entire system of these platforms and methodologies to improve the effectiveness of advertising campaigns. It was noted that the successful implementation of such programs will create new sources of income for domestic users.
As a result of negotiations with the American side, an agreement was reached on organizing a visit of the Meta delegation to Uzbekistan in the fall of this year.