The precious metal, after two declines, lost 13.5% of the peak value reached in March.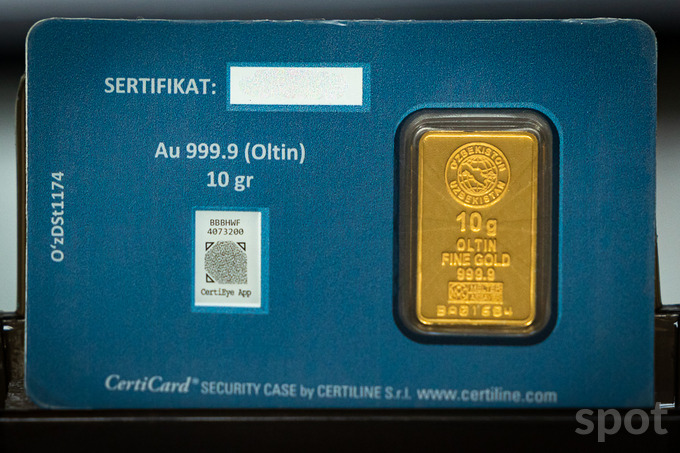 Gold in Uzbekistan has significantly fallen in price after the spring jump in prices, Spot reports referring to the Central Bank data.
In March-April, the quotes of the precious metal at the peak exceeded 750,000 soums per gram (3.75 million soums for a 5-gram bar). Since then, prices have fallen by 13.5%.
As of August 8, a 5-gram gold bar is estimated at 3.239 million soums, and a 50-gram one - at 32.37 million. The last time such indicators were noted on February 7.
Gold bar prices fell throughout the first week of August, losing 6.3% during this time. Prior to that, they significantly decreased at the end of April, and since mid-May they fluctuated in the corridor of 3.40-3.45 million soums per 5 grams, occasionally going beyond it.
Commemorative coins sank in price a little less - for example, banks are now offering 9.71 million soums for a 15-gram gold coin. This is their minimum cost since February 9.
World gold quotes in July fell to a minimum since April 2021 - less than $1,700 per troy ounce. Experts attribute this to tightening the monetary policy of developed countries. However, since the end of the month, the precious metal managed to win back part of the fall.
The Central Bank began selling commemorative gold coins to the public in 2018, followed by gold bars two years later. Individual buyers were allowed to take them out of Uzbekistan, subject to conditions.
These steps were explained by the desire to reduce dependence of the Uzbek economy on foreign currency. In addition, according to experts, access to gold will expand investment opportunities and help secure savings.
As of September 2021 (latest publicly available data), Uzbeks bought 5,100 bars and 2,500 coins. The total volume of gold in them amounted to 168.6 kg.
Coins and bars can be bought and sold through commercial banks. Their prices are set daily on the basis of world gold quotations, after which they are published on the CB website (and more recently, in the Telegram bot).