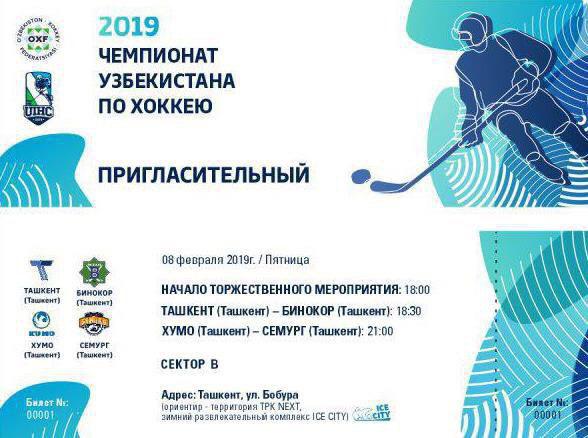 Tomorrow, on February 8, the first hockey championship of Uzbekistan starts on arena of the complex Ice City. In the competition, four teams of the capital – "Binokor", "Khumo", "Semurg" and "Tashkent" will compete for the victory. This was reported by the press service of the NOC.

It is worth noting that on February 1, at the opening ceremony of the Ice City complex, the Hockey Federation of the Republic of Uzbekistan (HFU) announced the launch of the first Uzbekistan hockey championship.

On February 8, in the opening match of the regular championship of Uzbekistan, the teams "Tashkent" and "Binokor" will play. On the same day, there will be matches between "Humo" and "Semurg". Judging will be led by arbitrators in the international category. In two months, 24 meetings and a playoff stage will take place within the framework of the championship.

The championship will end on March 17. And from March 20 the two-round play-off stage will start, which will be held up to three victories.

For information, the state registration of the Hockey Federation of Uzbekistan at the Ministry of Justice was held on March 28, 2018.