The volume of construction work performed in January of this year amounted to 2486.3 billion soums. Growth rates over the corresponding period of last year reached 104.9%, the State Statistics Committee reported.
The share of work conducted by large contracting organizations amounted to 398.2 billion soums, or 112.2% with the same period last year, and the stake in the total volume of construction works reached 16.0%.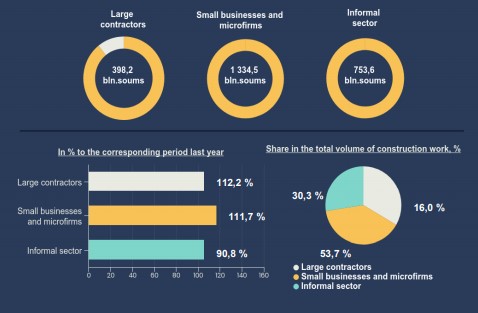 Small enterprises and microfirms, in the meantime, carried out works worth 1334.5 billion soums, or 53.7% of the total volume of construction activities. The growth rate was 111.7%. The share of the informal sector was 30.3%, or 753.6 billion soums with the growth rate being at 90.8%.
The main part of the construction work on the types of economic activity was carried out due to the construction of residential buildings and nonresidential premises. Their share in the total volume amounted to 73.0% and, compared to 2018, increased by 1.7%.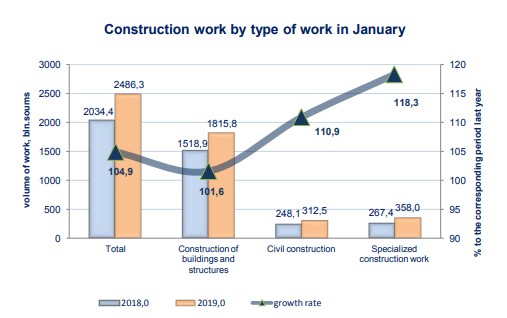 In the regional context, the construction work carried out by large contracting organizations is led by Tashkent. 28.3% of the total volume of such activities was carried out by major contractors in the capital.