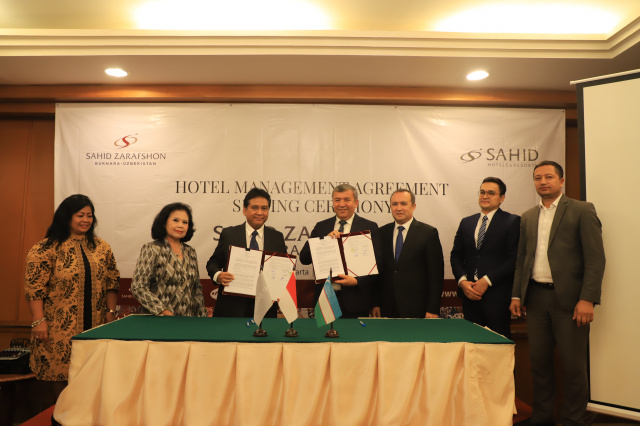 On November 8, at the Grand Sahid Jaya hotel in Jakarta, an official signing ceremony of the Agreement between the company Devel Eco Group LLC (Uzbekistan) and Sahid Hotels and Resorts (Indonesia) on the transfer of the reconstructing Zarafshon hotel in Bukhara to management of the Indonesian company took place. The hotel complex will be called Sahid Zarafshon, UzA writes.
The event was attended by the Sahid Group owner Viryanti Sukamdani, President of the Sahid Hotels and Resorts Kharyadi Sukamdani, Director of Devel Eco Group LLC Nasriddin Rashidov, Ambassador Extraordinary and Plenipotentiary of Uzbekistan to Indonesia Ulugbek Rozukulov and others.
After the reconstruction, the hotel will have 148 rooms serving up to 250 people. In addition, the complex will include six restaurants, summer and winter pools, gym and fitness rooms and other amenities for guests. Room design is being developed in cooperation with the "Sahid Hotels and Resorts" specialists. The hotel will be commissioned in February 2020.
According to the agreements, the Indonesian side will appoint the managing director of the hotel and a set of measures will be taken to train and retrain the Sahid Zarafshon staff.
In his welcoming speech, Kharyadi Sukamdani emphasized that this project will further strengthen ties between the peoples of the two countries. With the launch of direct flights between Jakarta and Tashkent, as well as the abolition of visas for Indonesian citizens in Uzbekistan, Indonesian tourists have every opportunity to visit the republic. He expressed confidence that in the light of the reforms carried out in Uzbekistan, this business project, as well as a number of other similar partnership projects between entrepreneurs of the two countries, will become successful.
It should be noted that the Sahid Group is a large holding company, which includes the construction and management of hotel and housing complexes, travel services and education.