Around 100 students studying in Singapore not able to return to Uzbekistan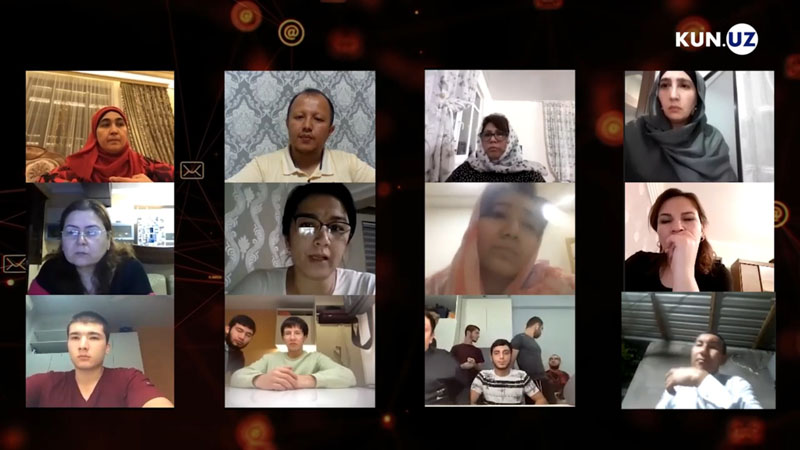 A group of students studying in Singapore appealed to Kun.uz saying that they are not able to return to Uzbekistan due to the suspension of flights, officials did not specify when charter flights would be organized.
Mamurjon Abdunazarov:
- We came to Singapore in autumn. Now the first year students have completed their studies, the second year students are about to complete. Due to quarantine, we are allowed to take the exams online. Currently, the Singapore Institute of Management Development alone has more than 90 Uzbek students. As quarantine restrictions were announced, we had to return a week after we finished our studies. But we have not heard any news yet on charter flights.
We also visited the Uzbek embassy in Singapore to ask when flights would resume. Our parents appealed to the Ministry of Foreign Affairs and other relevant agencies. But we have not been informed so far.
The number of people diagnosed with the coronavirus infection in Singapore has exceeded 20,000. Quarantine restrictions have been introduced, the risk of contracting the disease is high due to the fact that many are infected. In such circumstances, the most sensible solution is to return home as soon as possible. Now we are staying in our accommodation not going outside, we live in fear of contracting the virus.
Feruzkhon Goyipov:
- We pay 600 SGD per month for the dormitory. The deadline for renewing our visas is approaching. Most visas expire on May 20. If we stay here again, we will have to renew our visas, for which we will have to pay another 100 SGD.
If a charter flight is not scheduled, we will have to spend an extra 700 SGD. Many jobs are limited due to quarantine. We don't have a problem with foodstuffs, our parents transfer money, but we don't want to place the burden on our parents. Every day here means a cost.
We appealed to the Embassy and asked for a charter flight. They said "this issue is not in our hands, it will be resolved by the Republican Commission".
Barnokhon Samadova:
- The main part of them falls under the "Foundation course", that is, they are first-year students. Their graduation ended on April 17. Now, 96 students are demanding a return, about 80 of them are freshmen. I think the exam was supposed to take place on April 17. Later they were allowed to take online exams. They haven't been able to come back since then.
The bulk of the first-year students bought tickets by April 22. Everyone has a ticket in hand. They have not refunded the money either. Because all the cash registers are closed for quarantine.
The Embassy said the charter flight issue would be resolved after April 20. But so far, there has been no response.
Dildora Yunusova:
- The university administration promised to speed up the education process of our children due to the pandemic and complete it by April 16. With that in mind, we purchased air tickets for April 22. But because of the quarantine, our children were left stranded.
We applied to many places. We also sent a letter electronically. They said "if the Special Republican Commission gives instructions, then we will take action". We are not able to contact the Commission.
Mamurjon Abdunazarov:
- Treatment is very expensive due to the development of medicine in Singapore. In this regard, getting sick here will be a huge burden on the families of students.
Barnokhon Samadova:
- All students live in a very large dormitory. There are also students from other countries. If someone is infected with the disease in the dormitory, our children in the whole dormitory will be at risk of contracting the virus. Then they are not provided with food. They will have to buy foodstuffs from the market themselves. This is another reason for infection. So we need to return them as soon as possible.
Mirshohid Khoshimov:
- I am a second-year student here. First-year students finished their studies in April. They have been sitting without leaving the accommodation for a month and a half. We hear no news. Our study is also about to end on May 15. This has also shifted to online mode.
Khilola Abdullayeva:
- I would like to ask the government to support parents in bringing back their children. Indeed, our children are suffering.
My daughter exchanged her air ticket to April 22. We have to send $200 a week for our children's foodstuff. We are also affected by the current sharp rise in the US dollar rate. We kindly ask our government to assist in returning our children.
Zebo Khudoyberdiyeva:
- We have sent our children to the Singaporean Institute with the aim that they will acquire knowledge and later become leading specialists for the future of Uzbekistan. We don't want our children to get sick. We are very worried.
Durdona Mirakhmedova:
- I was against letting my child go abroad. He was fortunate enough to travel. Unfortunately, my son fractured his leg there. Medicine is really expensive. He spent $100 for an X-ray.
I contacted the consul in Singapore, I wrote a letter to the Ministry of Foreign Affairs. "We will consider the issue when we receive a letter from the consulate there", they said. When I called the consulate, they said "we have issued a letter and formed the lists. We are doing everything possible in our capacity".
Durdona Yunusova:
- It costs at least $200 a week to sustain the life. If anyone gets sick, no one will look after them. People from all over the world are in one place. They communicate with each other. We pray every day that they do not get sick. Please organize a charter flight to bring back our children.