The Deputy Prime Minister-Minister of Investments and Foreign Trade of Uzbekistan, Sardor Umurzakov, and the Deputy Prime Minister-Minister of Economy and Finance of the Republic of Korea, Hong Nam-Ki, held a videoconference meeting.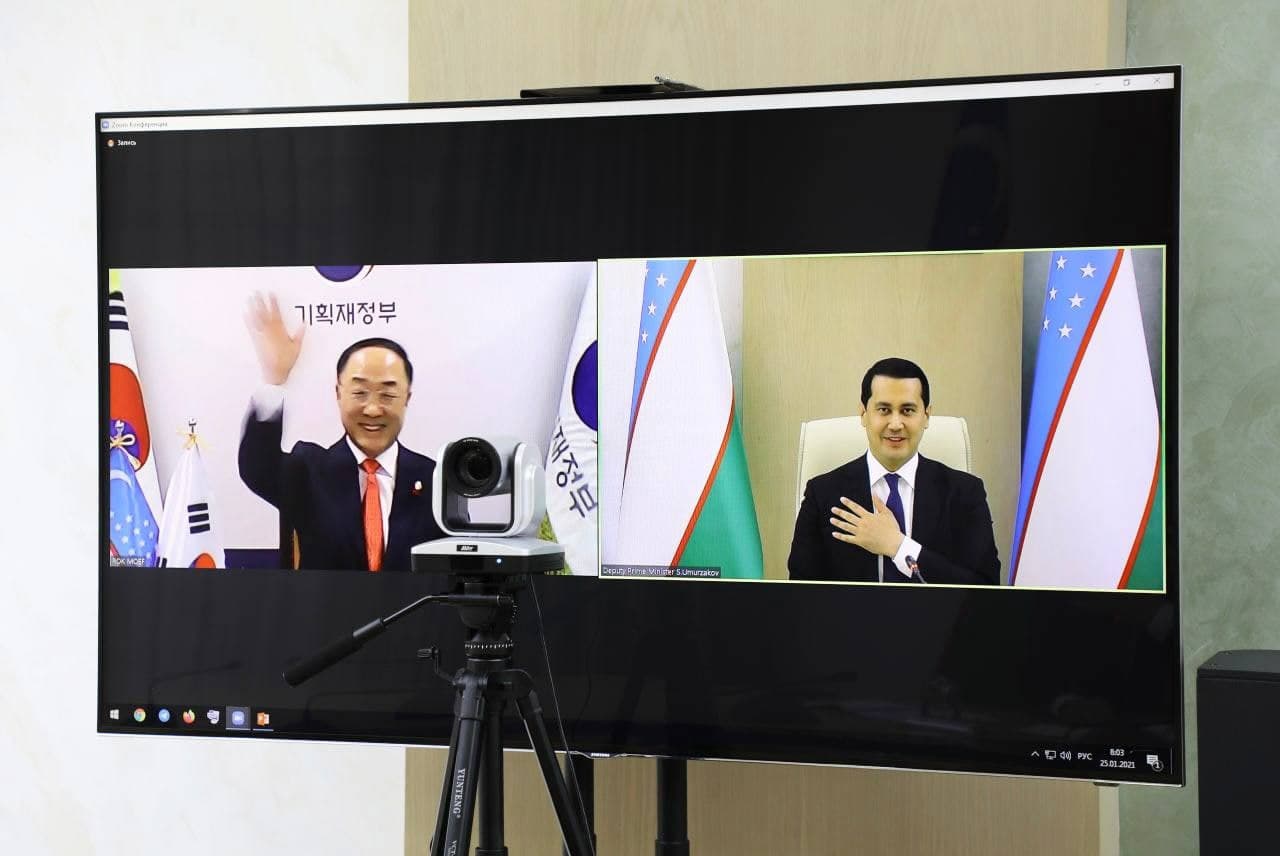 The ministers discussed mechanisms of realizing joint projects, including the construction of pharmaceutical cluster "Tashkent Pharma Park" in Zangiota district of the Tashkent region, creation of a multidisciplinary modern medical center, research and design institute – the Center for Chemical Technologies, modernization of the Mubarek Thermal Power Plant, as well as several other projects, the press service of the MIFT reported.
Issues of interaction with the Economic Development Cooperation Fund (EDCF) were considered separately in accordance with the new program of collaboration for 2021-2023 with a total cost of $ 1 billion, within which priority projects have already been identified. The Korean side expressed its readiness to speed up the processes of their approval in order to move to their practical implementation in the near future.
The meeting also focused on the prospects for increasing mutual trade through the adoption of effective measures aimed at eliminating trade barriers and facilitating the access of Uzbek and Korean products to the markets of the two countries. The parties expressed their readiness to cooperate further with a view to elaborating joint practical measures to diversify their mutual trade and bring its volumes to a qualitatively new level.
The sides are ready to enter into a negotiating process on the conclusion of an agreement on a sustainable economic and trade partnership, which will contain the key conditions and principles for cooperation in a wide range of areas, including the issues of ensuring access of Uzbek and Korean goods to the markets of the two countries, mechanisms of correcting the imbalance in mutual trade, measures of practical assistance of the Korean side in the accelerated industrialization of Uzbekistan, development of infrastructure and introduction of advanced Korean technologies in various fields.
It was announced that the Korean side will continue to provide financial and technical support to Uzbekistan as part of measures to counter the spread of the coronavirus infection and minimize the economic impact of the pandemic. On January 25, the Korean Government decided to allocate an additional grant for the implementation of the "COVID-19 Emergency Response Program" in Uzbekistan.
An important part of the negotiations was the agreements reached on the implementation of Korean experience in the development of the digital economy and digitalization of industry in Uzbekistan – in the near future, the signing of a Memorandum of Cooperation in the field of digitalization is expected, which will provide for the creation of a number of innovative industries, farms, "smart" cities and others.