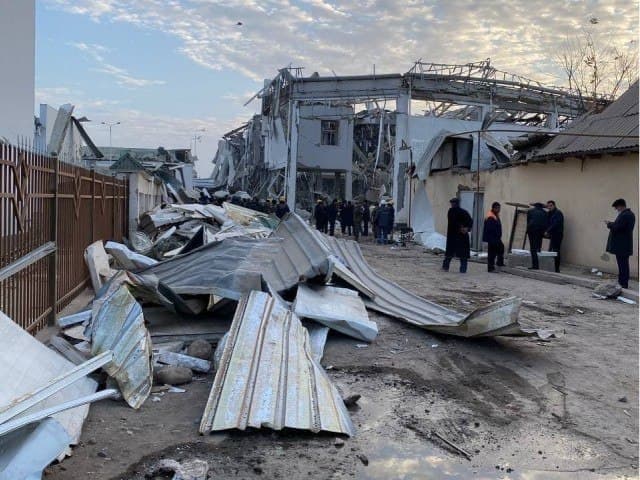 An explosion in a shopping center in Denau, Surkhandarya region, damaged 65 houses, cracked walls in six houses, making them uninhabitable. The Prosecutor General's Office announced the initiation of a criminal case.
It should be recalled that on December 7, a powerful explosion occurred in a two-storey shopping center in Denau. As a result, 9 people were hospitalized with injuries. The corpses of two victims were found under the ruins.
According to the press service of the supervisory department, law enforcement officers opened a case on the above fact under Articles 257 (violation of labor protection rules) and 259 (violation of fire safety rules) of the Criminal Code.
On December 8, in the city of Denau, a press conference was held with the participation of the regional khokim of Surkhandarya Tura Bobolov, the first deputy minister of health Amrullo Inoyatov, the deputy head of the PGO department Doniyor Masaliyev and the head of the Ministry of Emergency Situations Ulmas Muzaffarov. Additional information was provided on the December 7 explosion at the Denau shopping center.
Reportedly, after the explosion, the regional administration temporarily rented 24 new apartments and residents whose houses have fallen into disrepair are moving into them. In addition, representatives of 6 severely damaged households were provided with temporary housing.
At the press conference, the regional khokim also said that the explosion damaged 65 households and several social facilities located around the shopping center. The walls of 6 houses were badly damaged, doors and windows were knocked out in the rest of the houses.
Tura Bobolov said that the working group is carefully studying the situation, and fair decisions will be made regarding the demands of the population to repair the damaged housing.